Apollo: A WordPress Theme From Scratch pt 3: Development (Demo)
Written by Cebo Campbell on June 5th •
1 Comment »
Firstly, I am super happy about how Apollo has turned out. It looks/functions exactly how I imagined. It is loaded with features and intuitive to use. I will tell you about it, after the break to give you the full feature set.


Click Here For the Apollo Demo
Multiple Home Page Configurations
Fully Responsive
Full Screen Parallax Home Gallery
About "Us" Section for Teams
About "Me" Section for Individuals
Sexy Portfolio Section/Page Template
Multiple Portfolio Layouts

Full Screen Feature
Touch Ready Carousel Feature
Unlimited Color Backgrounds
Optional Image Galleries

Built In Mailchimp Ready Email Newsletter Template
Built In Basic Email Newsletter Template
Optional "Columnized" Two Column Layout
Multiple Page Layouts
Shortcodes

Dropcaps
Blockquotes
Tabs
Columns (up to 4)
Accordions

Pricing Chart
Contact Page
Parallax Office Section
Google Map Integration
Twitter Integration
Instagram Integration
Options Panel
Built In Contact Forms
Slide Out Contact Forms
PSD's Included
Well Documented
Markup and WordPressification
People often ask me if I prefer design over development and, honestly, it is like asking me to choose between two slices of pizza. I want to enjoy both…don't judge me. I love design because of the creative adventure and I love code because of the problem solving.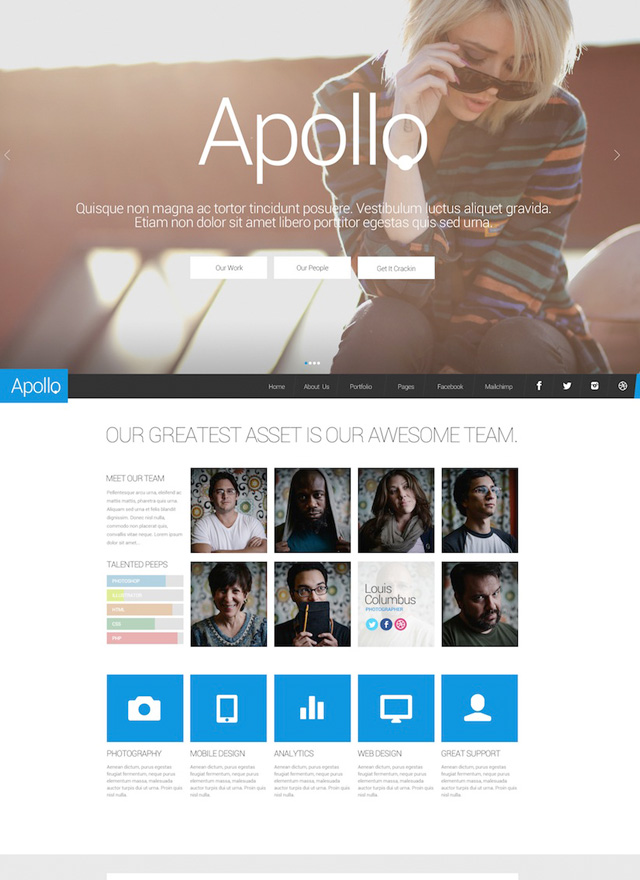 With Apollo, my goal was to design as many problems for myself as I could and then figure all them bastards out in code. I'd decided I wasn't going to worry much about pixel-perfection, but I did want the code to be clean and validated. On a side note, I also decided that Apollo would be my first work no longer supporting IE8. I hate IE8. You hate IE8. So let's all be done with it.
The markup went well. I used a ton of new techniques that I had not previously used. The entire site is HTML 5 and is fully-responsive. I used neat little CSS3 tricks like keyframes for animations, an entirely css dropdown two tier navigation, placeholders, icon fonts (so cool) and lots of cool jquery plugins. I did run into issues, but overall, nothing major and the html checked out valid…and sexy as hell.
WordPressifying a site, as a base, is not that difficult. A theme only need a header, footer style.css and an index to work. But, thankfully, I had a framework I built a couple of years back that I could just update that included a full options panel, post-types, custom fields and pre-determined variables. I did add something I have railed against for a while: SHORTCODES!
In the past, I have always felt shortcodes, although helpful, limited the user if they ever wanted to switch themes. But, I decided this time I would give them a go, if only to provide additional configuration without breaking the design. I remains to be seen if the users will prefer them or not, but it provides a nice touch.
I have put together a demo page so you good folks can check out the theme. I am pretty happy with it. Next up I will go about choosing a marketplace to sell the theme and let you know how it goes.
Click Here For the Apollo Demo
…Gone … See Part 4: Choosing A Marketplace
Recent Posts
Instagram
A Little About Me
I am just a dude who likes making things. I've worked as designer, a social media marketing director, a copywriter and even a pool cleaner. I own the boutique creative agency Novel Avenue, make WP themes, EE Themes and Ruby themes and honestly could not live without football. I am husband to a rad wife, dad to two kiddos and love what I do. Also, I am down for a beer if you're buying.
I am easy to find ↓
My peeps on the web